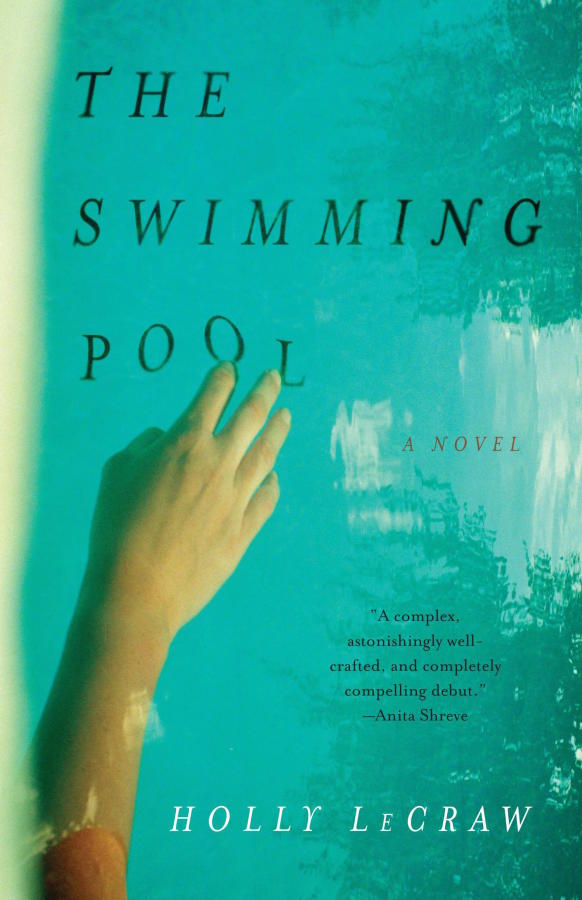 This hazy-hot novel, set on sun-drenched Cape Cod, chills to the bone. People Magazine
The suburban afflictions that are drowning these characters make The Swimming Pool difficult to put down.
Entertainment Weekly
THE SWIMMING POOL is as riveting and psychologically complex as Hitchcockian film noir…a tale of entangled lies, complicity, betrayals, and unstoppable consequences.
Amy Tan
---
A Daily Beast Best Book of Summer
A Good Morning America Top Pick
A Chapters/Indigo Heather's Pick
---
Marcella Atkinson was a married woman when she fell in love with Cecil McClatchey, himself a married father of two. On the same night their romance abruptly ended, Cecil's wife was found murdered, a case that has never been solved.
Seven summers later, Marcella is divorced and estranged from her daughter, mired in grief and guilt. But when Cecil's grown son, Jed, returns to the Cape and finds Marcella's bathing suit buried in his father's closet, this relic of the past sets in motion a passionate affair.
Lyrical and sensuous, The Swimming Pool is about devotion in all its forms: between spouses, lovers, siblings and, especially, between parents and children. It is a story of how our most essential connections entwine, in the most surprising of ways, and how they endure.
---
Buy THE SWIMMING POOL:
*IndieBound connects you online with your nearest independent bookseller. Indies are an integral part of reading and writing life and a key element of thriving neighborhoods—visit whenever you can!
---
More Praise for THE SWIMMING POOL
This exceptionally complex and accomplished novel does not read like the work of a beginning writer. Insightful…an author to watch.
Library Journal, Starred Review
Strong writing keeps the reader sucked in to LeCraw's painful family drama debut. It is a story of deep and searing love, between siblings and lovers, but most powerfully between parents and their children.
Publishers Weekly
An insightful, compelling examination of love and betrayal. Powerful and page turning.
Winnipeg Free Press
THE SWIMMING POOL is a complex, astonishingly well-crafted, and completely compelling debut.
Anita Shreve, author of Testimony and The Weight of Water
THE SWIMMING POOL is more than an auspicious debut. Holly LeCraw's first novel is gripping, passionate, and beautifully written from start to finish, a moving chronicle of two damaged families struggling to free themselves from a complex web of secrets and lies.
Tom Perrotta, author of Little Children and The Abstinence Teacher
THE SWIMMING POOL would have knocked me over if Holly LeCraw already had a shelf full of prize-winning books to her credit. What an intelligent, beautifully plotted, intriguing and un-put-downable story about family secrets that interlock and haunt. I was totally captivated and lost in admiration for this masterful novel.
Elinor Lipman, author of Then She Found Me and The Family Man
THE SWIMMING POOL is a riveting family story that will hold the reader enthralled from the very first page. With great suspense, Holly LeCraw skillfully orchestrates the collision course of a present-day love affair with the dark mysteries of a family's past. She is a wonderful writer.
Jill McCorkle, author of Going Away Shoes and Tending to Virginia
The Swimming Pool is 'wow!' This is a book you need to read.
Sheistoofondofbooks.com
Every sentence drips with delicious deeper meaning.
AARP Magazine
This novel about Cape Cod's social circles reveals the miseries hiding beneath its sanitized and highly chlorinated surface… the suburban afflictions that are drowning these characters make The Swimming Pool difficult to put down.
Entertainment Weekly
This book, in many ways, defies simple classification — it is a psychological novel, a coming-of-age-novel, a novel about relationships, and marriages, and suffering. It is precisely the quiet kind of book I have come to admire — it is crafted, not just written; it is a wonderful read.
Mrsodellreads.com
A fearless debut novel full of fresh insights and casually elegant writing…LeCraw was born and raised in Atlanta, where her father founded the late, great Oxford Books. After spending her childhood among the shelves of wonderful books, she has created one of her own.
Atlanta Magazine
---
Read more about THE SWIMMING POOL